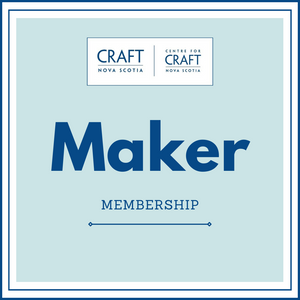 Maker Membership
Maker Membership  
This membership is for all practicing craftspeople, whether you are an emerging, intermediate or senior maker. (This membership is replacing our, senior, general and market membership) 

Please fill out the Membership Registration form here.
 
Select Your Payment 
Our aim is to ensure membership is accessible to as many craftspeople as possible. We are offering the Maker Membership at a variety of price points to fit your budget. We encourage those who can, to purchase their membership at the high price point, this helps offset the cost for those who cannot afford it at the present time and helps strengthen our community.  

Use the drop-down menu to select the price point that is most appropriate for your financial circumstances. This membership is available in the range of $40, $60, $80 and $100. All membership fee levels receive the same benefits and access. 
 
What Your Membership Fee Supports 

Your membership fees support Craft Nova Scotia, including Mary E Black Gallery and our Centre for Craft Studios. Membership fees help cover the costs of programs, workshops and events, offsets operational costs and help us give our members an exceptional member experience. 
Benefits
Complementary access to Standards Assessment / Master Artisan Assessment 

Juried members are eligible to participate in all retail opportunities (markets, online shop)

 

Juried members have the opportunity to take part in the Halifax Convention Centre's Shop Local Pop-Up Markets 

 

Juried Members have the opportunity to take part in future retail partnerships with Develop Nova Scotia

 

Apply for the Craft NS Annual Member Exhibition 

 

Opportunity to participate on committees (Standards, Exhibitions, Market Advisory, etc)

 

Reduced Workshop Fees 

 

Share your exhibitions, events and workshops with the craft community through the Craft Nova Scotia monthly newsletter

 

Receive one on one support with grants and exhibition applications

 

Receive one on one support with research (looking for retailers, grants, galleries, etc...)

 

Business Insurance: Custom tailored for the small craft and visual art business, Arthur J Gallagher Insurance is pleased to offer a special insurance package to Craft NS members, including content coverage, general liability for exhibitions, craft fairs and retail shows, and shipping/transportation.

 

Health Insurance Plan: We have partnered with Theriault Financial Inc. and the Chambers Group Health Plan to offer members health benefits at an affordable rate.

Packages vary depending on your individual needs.

 

Invitations to markets, exhibition openings, artist talks, special events and receive news from the organization

 

One vote at the AGM

 

listings on the Craft Nova Scotia Member Directory and create a listing on the national Citizens of Craft Directory

 

Option to Subscribe to Studio Magazine at a reduced rate 
                               -  1 year subscription $11.95 
                               - 2 year subscription $20.00

 
Members who opt into a Studio Magazine subscription will be charged the subscription fee and shipping on top of their annual membership fee. The next available issue of Studio Magazine will be mailed to the address you provide at checkout.
Have any questions? Please contact Rebecca Groves at
office@craftnovascotia.ca
or by calling the Craft Nova Scotia office at 902-423-3837
---
We Also Recommend